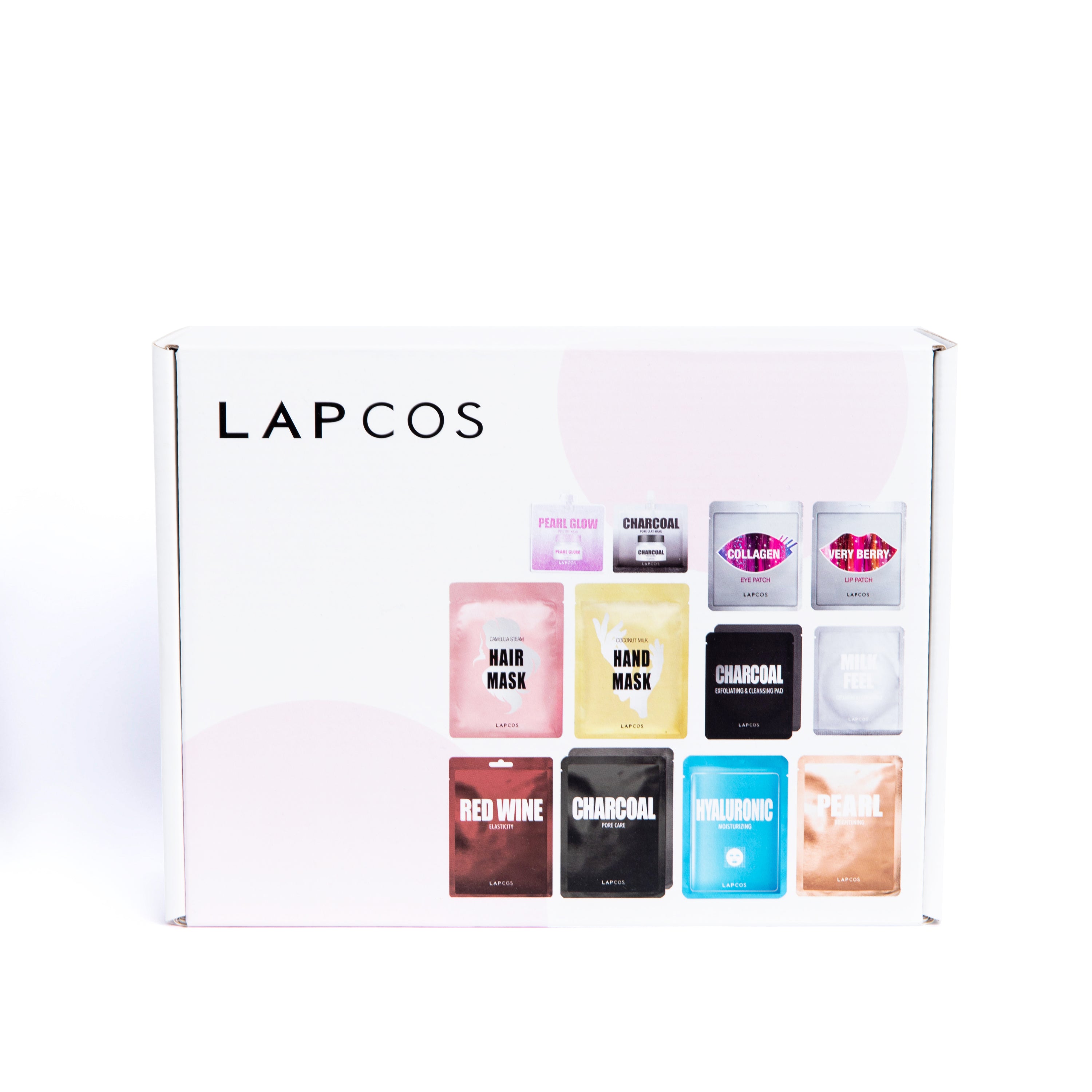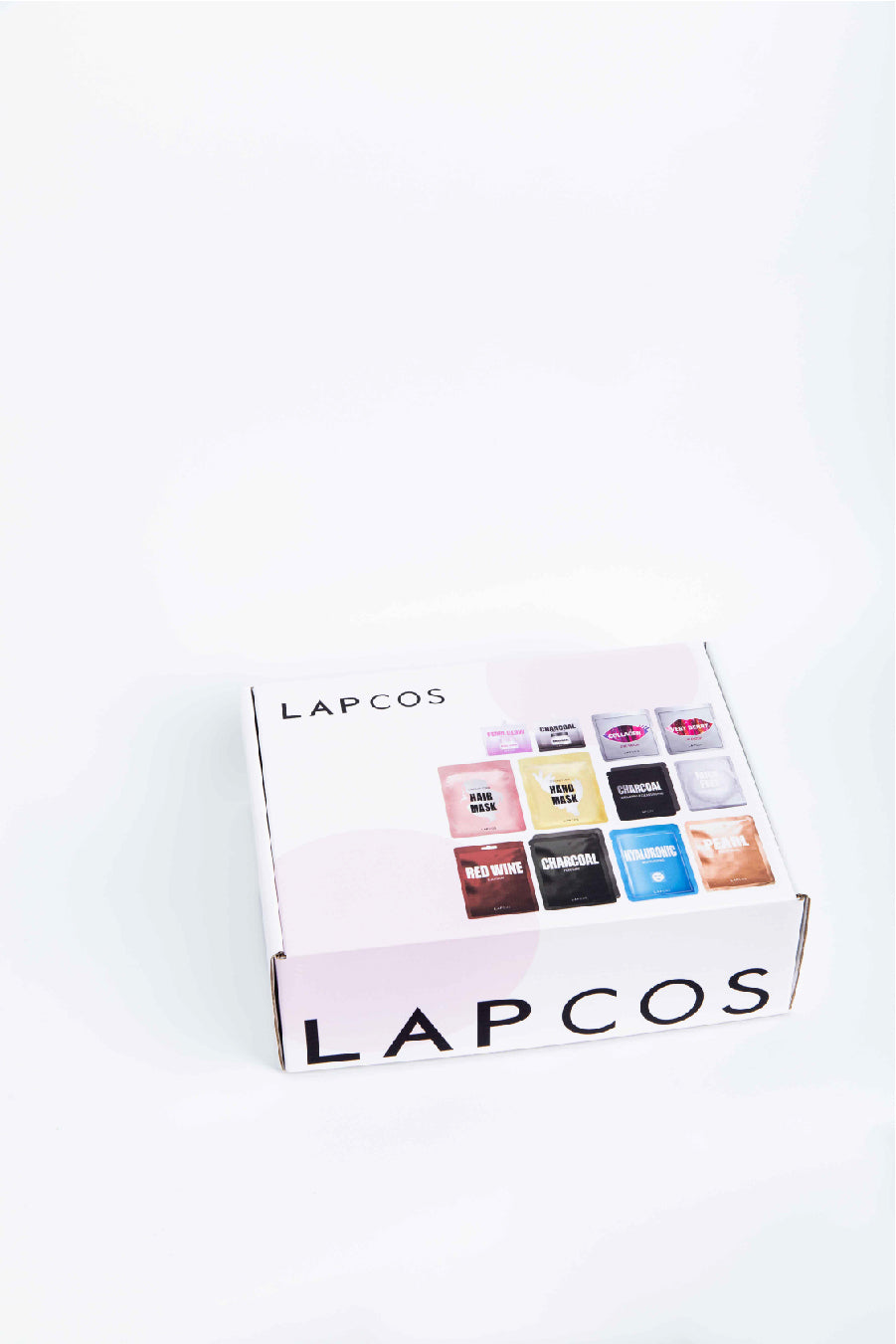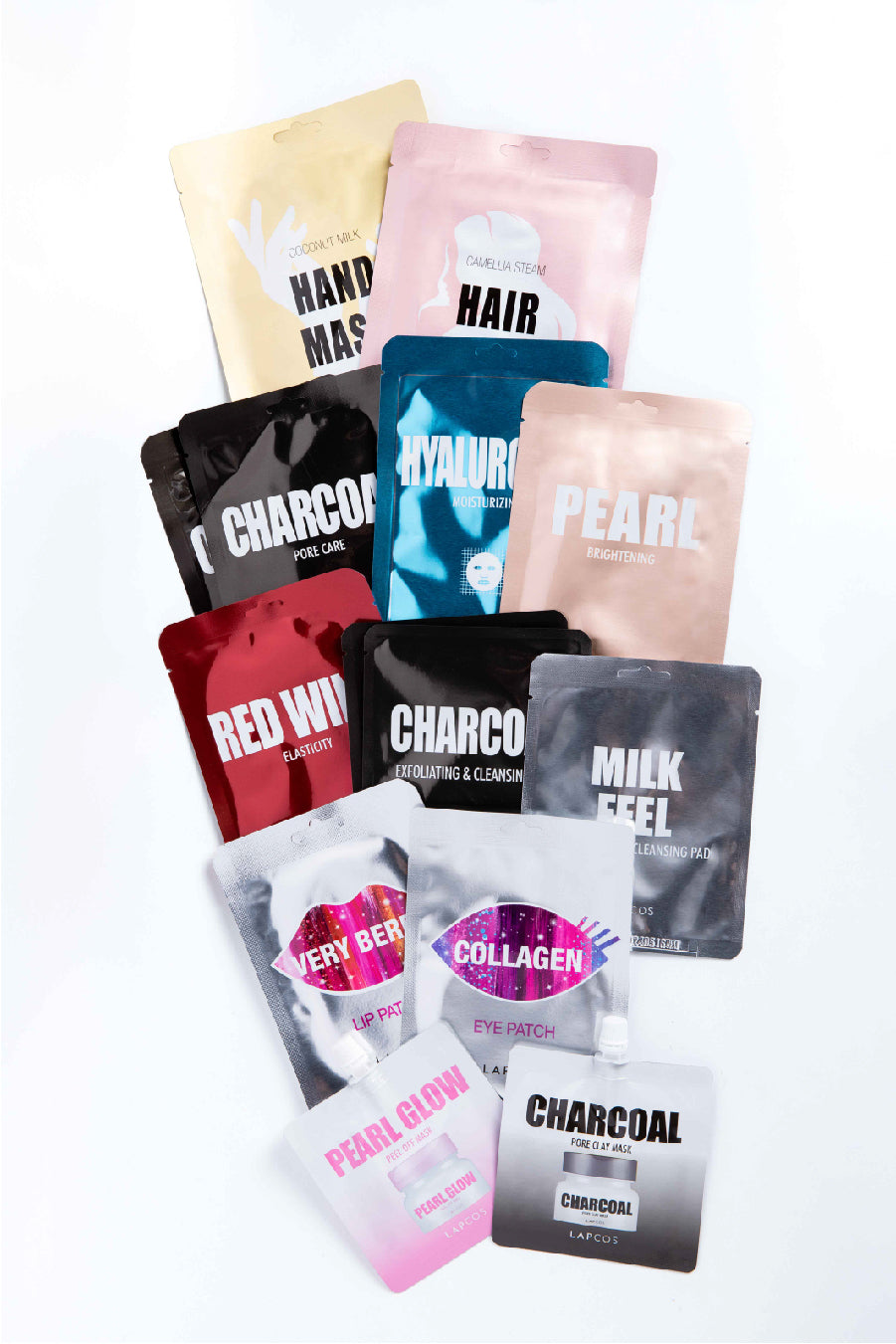 Pamper Variety Gift Set ($56.00 Value)
The perfect gift set of 10 different masks and 2 exfoliating pads for beautiful healthy hand, hair, face, eyes and lips, and a pampering all over.
Recommended Skin Type: All Skin Types
Hand Mask
A softening targeted hand mask powered by Coconut Milk + Ceramides
Hair Mask
A smoothing targeted hair mask powered by Camellia + Hydrolyzed Collagen
Red Wine Sheet Mask
A tightening pulp cellulose sheet mask powered by Wine Extract, Blueberry + Allantoin. Leaves your skin feeling....like a tight, springy balance beam.
Charcoal Sheet Mask x2
A detoxing charcoal sheet mask powered by Charcoal Powder, Glycolic Acid + Panthenol. Leaves your skin feeling...like the pure, poreless texture of satin.
Hyaluronic Acid Sheet Mask
A moisturizing TMF-cell sheet mask powered by Hyaluronic Acid, Caffeine + Allantoin.
This mask emulates…the humectant properties of a cloud.
Pearl Sheet Mask
A brightening tencel sheet mask powered by Pearl Extract, Lactobacillus + 
Chamomilla. Leaves your skin feeling...as soft hued & radiant as a precious gemstone.
Collagen Eye Mask
A smoothing + firming hydrogel patch powered by Hydrolyzed (Marine) Collagen & Grapefruit Seed Extract.
Very Berry Lip Patch
A reviving hydrogel lip patch powered by SuperBerry Complex, Aloe Vera, Peppermint Leaf Extract and Hyaluronic Acid.
Charcoal Clay Mask Spout
A detoxifying clay mask powered by Charcoal Extract and Chondrus Crispus Extract.
Pearl Glow Peel Off Mask Spout
As powerful as it is satisfying, our pearl-infused peel off mask brightens and rebalances tired, dull, lackluster skin.
Charcoal Exfoliating & Cleansing Pad x2
A detoxifying cleanser and exfoliator powered by Charcoal Powder + Soybean
Milk Feel Exfoliating & Cleansing Pad 
A softening cleanser and exfoliator powered by Milk Protein Extract + Bamboo Water
Pamper Variety Gift Set ($56.00 Value)
FAQ
Is Lapcos cruelty-free?
Yes, we provide cruetly-free care from hair-to-toe. We're proud to share that testing on animals in South Korea - where our products are researched, developed & manufactured - has never been tolerated.
Can I recycle your products?
Yes, all of our products are recyclable and we encourage everyone to recycle them to reduce our collective footprint on our shared planet. Simply wash out the product packaging and if the item is a bottle or jar, be sure to seperate its parts like the bottle from its cap or pump. For more information check in with your local recycling facility.
How do I know my skin type?
Skin concerns vary from person to person and season to season. Learn your skin type by washing your face and letting your complexion rest product free for a few hours. Check in again and notice whether your skin feels normal, dry, oily, or a combination of dry and oily in different areas. This will inform which formulations will be most impactful for your skincare routine. 
What makes a good skincare routine?
There's no perfect skincare routine for everyone, as every individual has their own skin concerns. The best regimen is one that targets your unique skin concerns, suits your personal lifestyle, and leaves you feeling your best.
Shipping
Fast shipping
We offer free USPS or UPS shipping to domestic customers on orders totaling over $45 USD - excluding tax & shipping cost. We also offer 2 day shipping for a flat rate of $20. Shipping to Hawaii, Canada, Alaska + Puerto Rico is a flat rate of $20. We do not offer international shipping at this time, but we're working on it.
Order tracking
When your order has been processed and shipped, you will receive an e-mail notification from us which will include the shipping details and the tracking number, so you can keep an eye on your order's estimated arrival.
Get in touch
We're here for you. Please reach out to hello@lapcosusa.com for any additional questions or concerns and our team will respond in about 2-3 business days.