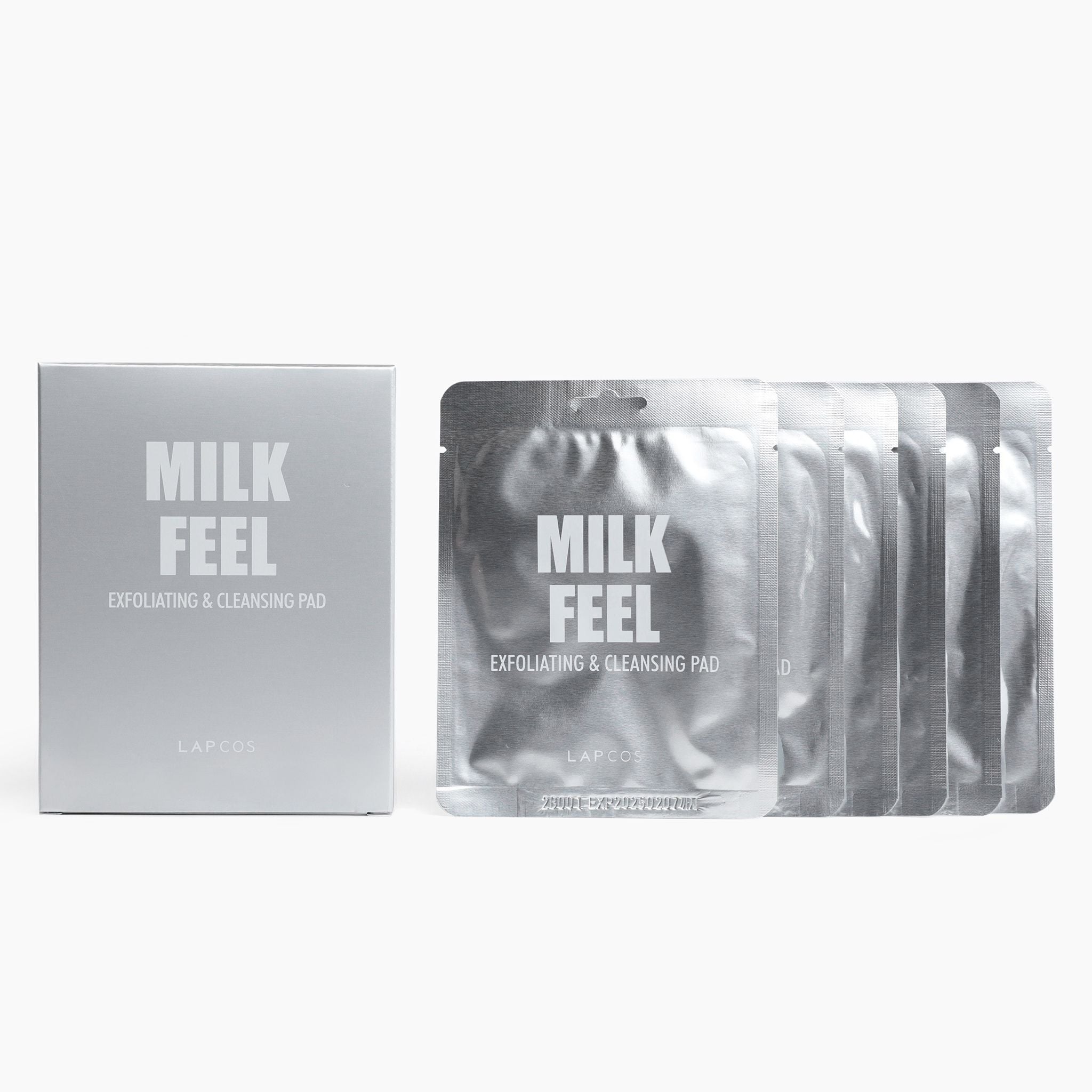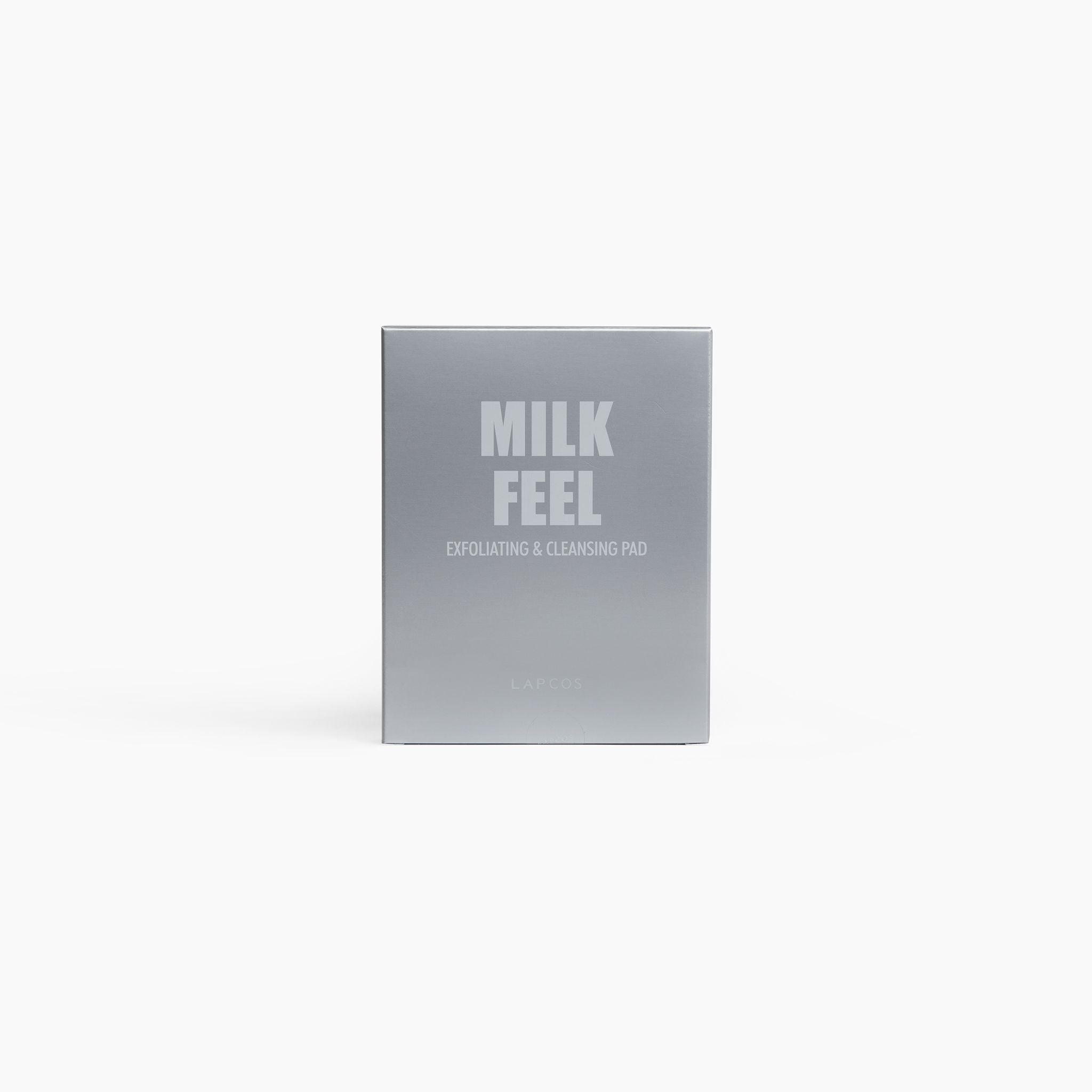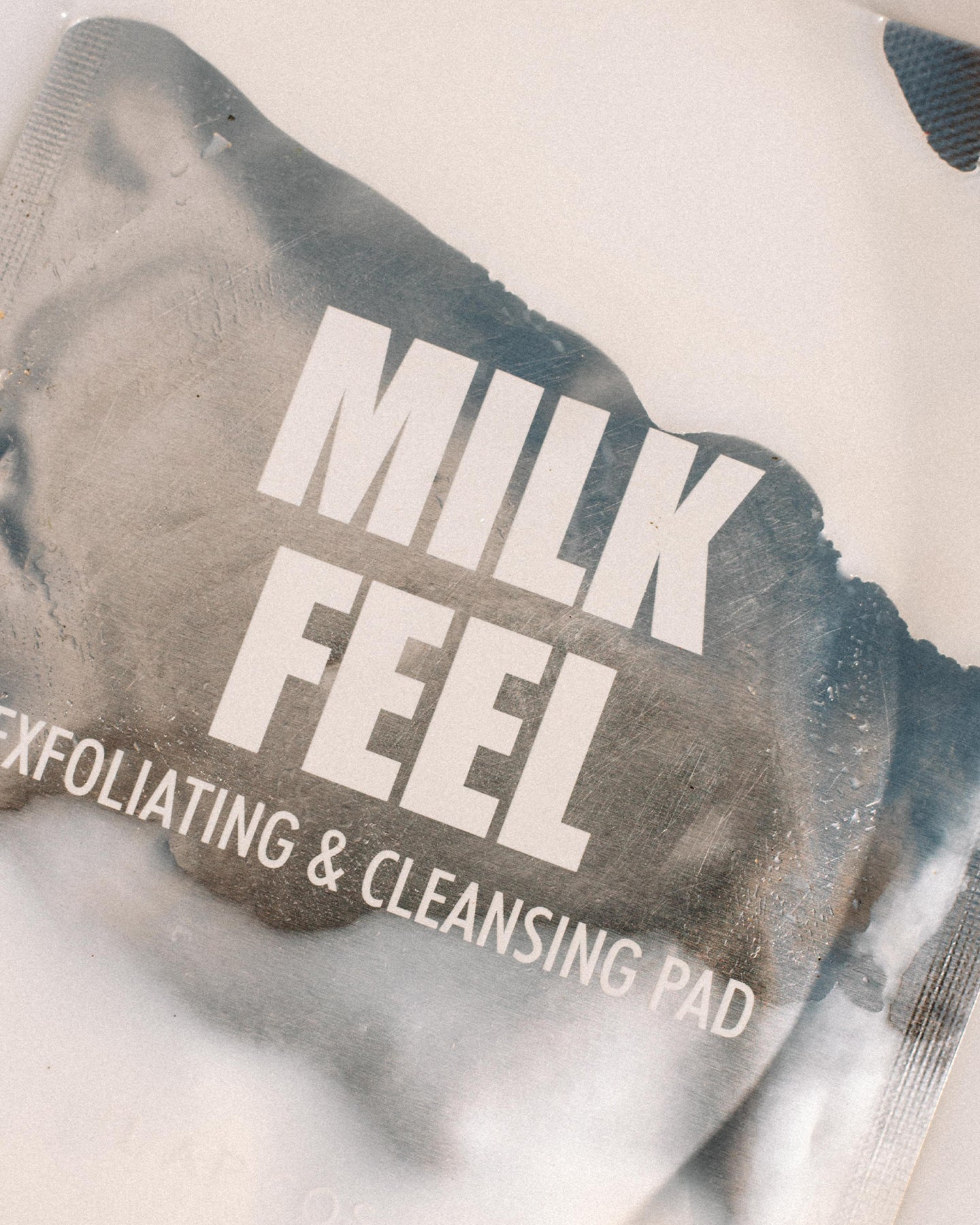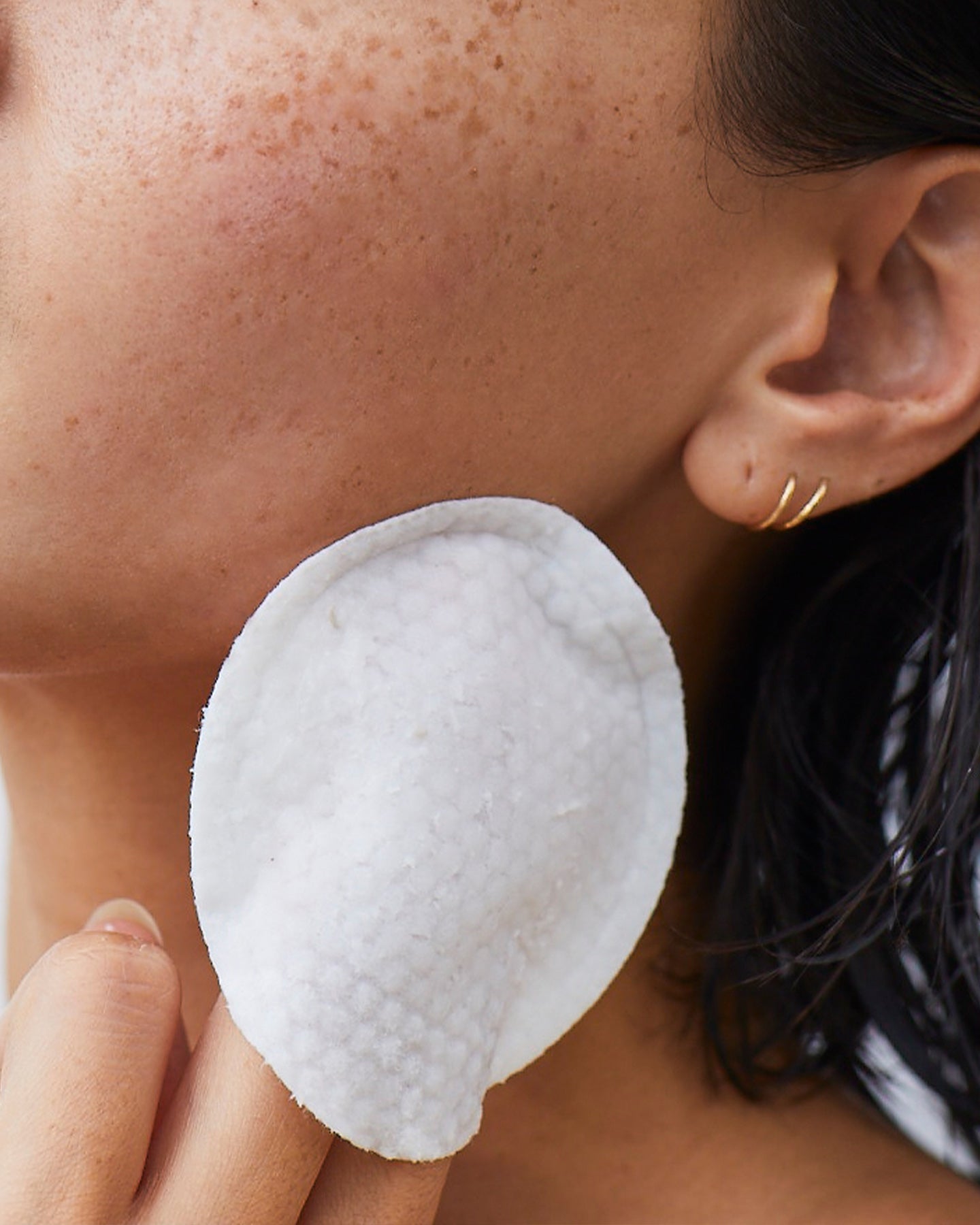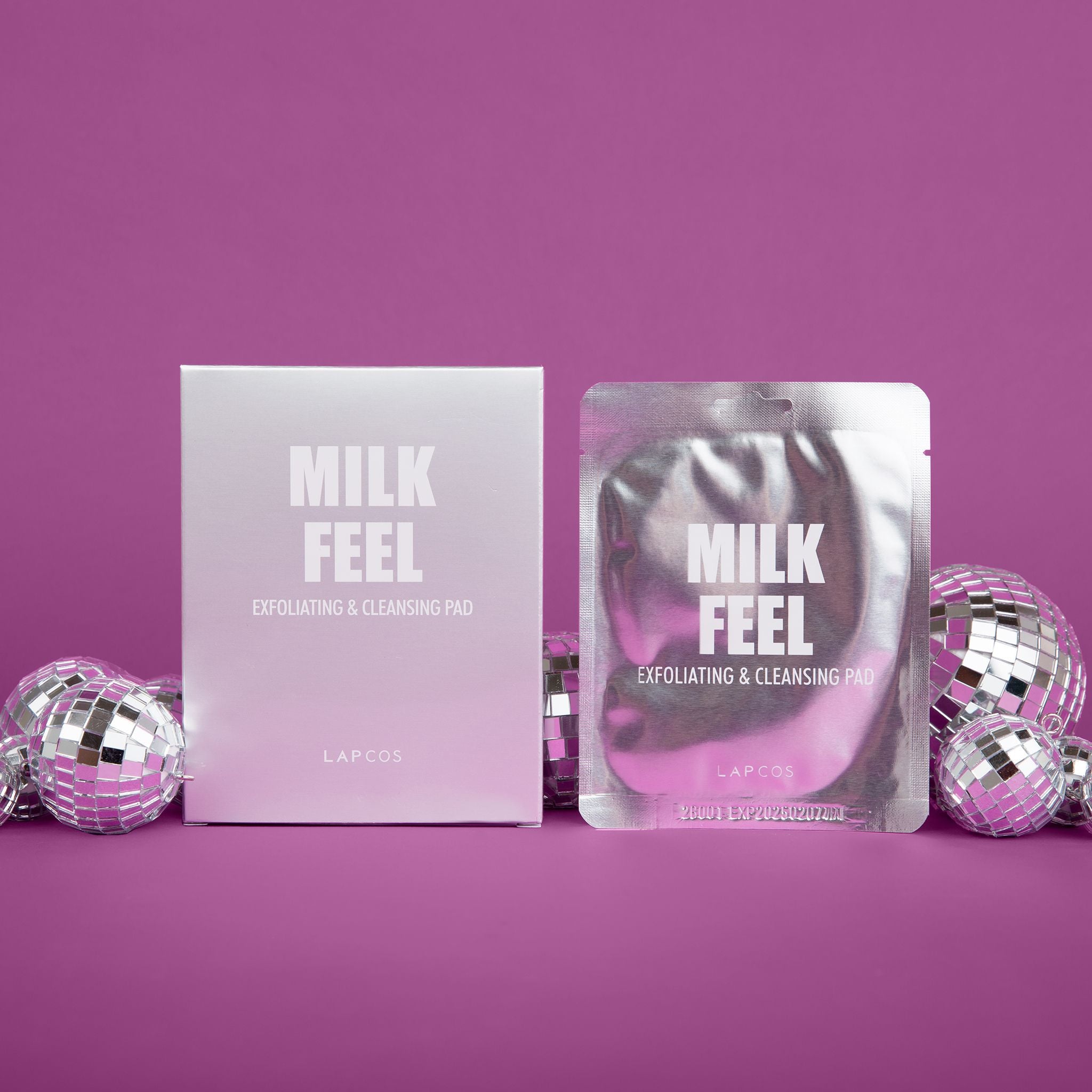 Milk Feel Exfoliating & Cleansing Pad
Goes with:
Description

Hero Ingredients

Details

Full ingredient list
With this milky skin care treasure, a little goes a long way. Inspired by the exfoliating Korean scrub tradition, the multi-tasking pad was created to help restore your skin when it's stressed, tired and craving moisture -- even when cleansing. Use the exfoliating side to swipe away makeup, impurities, dust and dirt in a few satisfying strokes, followed by the soft side for a thorough cleanse.
Benefits:
+ Gently dissolve buildup and impurities
+ Remove dead skin cells from the surface of your skin
+ Improve skin's texture and tone with a velvety finish
Milk Extract 
An amino acid-dense super protein, rich in nutrients, antioxidants + vitamins. Elasticizing, moisturizing and protecting, a true triple threat.
Bamboo Water
One of the richest natural sources of silica, this cleansing & revitalizing skin powerhouse helps to stimulate collagen, leaving skin stronger + firmer. 
Broccoli Extract
This plant extract holds a plethora of naturally occurring antioxidants, vitamin C and selenium to help reduce skin redness and damage, like scarring.
Hero Ingredients: Milk Protein Extract, Bamboo Water, Broccoli Extract
Ideal for these Concerns: Dirt/makeup, clogged pores, uneven texture + tone
Preferences: Cruelty-free, Alcohol-free 
Application Area: Face

How to use: 
1. Insert fingers into the sleeve, quilted side facing down.
2. Gently rub your face and neck in a circular motion, then rinse thoroughly with lukewarm water.
Water,  Dipropylene Glycol,  Cellulose,  Alcohol,  Propylene Glycol,  Quaternium-60,  Carbomer,  PEG-20 Glyceryl Triisostearate,  Butylene Glycol,  PEG-7 Glyceryl Cocoate,  Milk Protein Extract,  Gaultheria Procumbens (Wintergreen) Leaf Extract,  Ethyl Hexanediol,  Bambusa Vulgaris Water,  Pentylene Glycol,  Caprylyl Glycol,  Opuntia Coccinellifera Fruit Extract,  Brassica Oleracea Italica (Broccoli) Extract,  PEG-60 Hydrogenated Castor Oil,  Phenoxyethanol,  Disodium EDTA,  Ethylhexylglycerin,  1, 2-Hexanediol,  Fragrance
Disclaimer: Ingredients are subject to change at the manufacturer's discretion.  Actual packaging may vary, for the complete and up-to-date ingredients, refer to the product packaging. Please read labels, warnings and directions before use.
Milk Feel Exfoliating & Cleansing Pad
FAQ
Is Lapcos cruelty-free?
Yes, we provide cruetly-free care from hair-to-toe. We're proud to share that testing on animals in South Korea - where our products are researched, developed & manufactured - has never been tolerated.
Can I recycle your products?
Yes, all of our products are recyclable and we encourage everyone to recycle them to reduce our collective footprint on our shared planet. Simply wash out the product packaging and if the item is a bottle or jar, be sure to seperate its parts like the bottle from its cap or pump. For more information check in with your local recycling facility.
How do I know my skin type?
Skin concerns vary from person to person and season to season. Learn your skin type by washing your face and letting your complexion rest product free for a few hours. Check in again and notice whether your skin feels normal, dry, oily, or a combination of dry and oily in different areas. This will inform which formulations will be most impactful for your skincare routine. 
What makes a good skincare routine?
There's no perfect skincare routine for everyone, as every individual has their own skin concerns. The best regimen is one that targets your unique skin concerns, suits your personal lifestyle, and leaves you feeling your best.
Shipping
Fast shipping
We offer free USPS or UPS shipping to domestic customers on orders totaling over $45 USD - excluding tax & shipping cost. We also offer 2 day shipping for a flat rate of $20. Shipping to Hawaii, Canada, Alaska + Puerto Rico is a flat rate of $20. We do not offer international shipping at this time, but we're working on it.
Order tracking
When your order has been processed and shipped, you will receive an e-mail notification from us which will include the shipping details and the tracking number, so you can keep an eye on your order's estimated arrival.
Get in touch
We're here for you. Please reach out to hello@lapcosusa.com for any additional questions or concerns and our team will respond in about 2-3 business days.